Bill Marshall Lecture and Award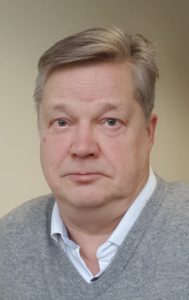 Bill Marshal Lecture and Award
As part of the Best of Espid session on Thursday, May 9th 11:30 -13:00, Prof Heikkinen will be presented with his award and give a lecture titled "Viruses are hotter than ever?".
Professor Terho Heikkinen was born in Turku, Finland. He attended medical school at the University of Turku, where he received his MD (1984), PhD, and Docent degrees, and specialized in Paediatrics and Paediatric Infectious Diseases. His thesis entitled "Development and Prevention of Acute Otitis Media in Children" was completed in 1994.Having received the ESPID Fellowship Award, he worked in 1996-1998 as a Research Fellow at the University of Texas Medical Branch at Galveston, USA. Subsequently, he held a position of Senior Clinical Researcher funded by the Academy of Finland at the University of Turku. He is currently Professor of Paediatrics at the University of Turku, Finland. Terho Heikkinen´s major research interest lies in influenza, RSV, and other respiratory infections, including otitis media.
He is an active member of several international and domestic scientific organizations dealing with infectious diseases and WSPID President.